Barnes Submersible, Grinder, Effluent and Sump Pumps
Coming soon to FlowFactor.com: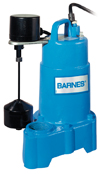 Barnes (a Crane Company) residential sump pumps feature low cost, high performance benefits from a rugged, heavy duty design. All of our sump pumps feature dual ball bearing design and thermoplastic or cast iron impeller options. Barnes sump pumps feature a variety of switch options including a magnetic switch on our SHUR-Switch sump pump. All Barnes sump pump are robustly designed for long operational life and dependable service. They are further enhanced by a stainless steel shaft and heavy duty seal. Barnes sump pumps save time and replacement costs because they are interchangeable with competing sump pump brands. CSA and SSPMA certified.



Barnes Non-Clog series of pumps are commonly found in applications involving sewage, effluent, wastewater processing and solids laden media. Available in both standard and explosion proof applications, Barnes Non-Clog pumps are constructed of durable cast iron, oil filled motors providing a pump tough enough to meet almost any application need.